Don't forget to enter the 2nd chance draw for another e-session with Living Beauty Glamour Make up. JettyBlue will also be giving away a 3rd e-session, so become a fan on Facebook to enter our 2nd chance draw. The 2nd chance draw will be drawn on Monday the 14th of July. Good luck ladies!
Become a fan and enter the 2nd chance draw at:
http://www.facebook.com/pages/JettyBlue-Photography/215295225174085
Illawarra Mercury Bridal Expo Special:
Stop by and say hi at our stand at this weekend's Illawarra Mercury Bridal Expo and by taking the time to register your details with us, you are eligible for a FREE Matchbook Album with either a Traditional or Premier style presentation album if you book ANY package by 31st of December 2011. The matchbooks are a minature replica of your album and come in a 6x6inch for the Traditional Albums, or a 6x8inch for the Premier Albums. The matchbooks come with a complimentary front and rear photo cover. This offer is limited to one matchbook per bride.
We're also giving away THREE FREE "e-session"s, so drop into our stand for a chat, pick up a voucher and to enter the draw. Looking forward to seeing you all on Sunday!
Cheers,
Sam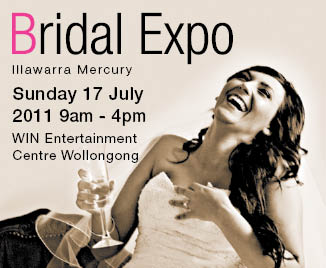 Follow JettyBlue on Facebook
Yes, yes, I can feel the eyes rolling from here but hey, better late than never! JettyBlue is now on Facebook – Hurrah! Become a fan and follow our every move, latest trends, competitions and see where we'll be at the next fabulous expo.
http://www.facebook.com/pages/JettyBlue-Photography/2152952251740
JettyBlue in the Media:
We were really excited to be featured in last month's "That's Life" magazine. Louise and Craig's wedding in Wollongong earlier in the year was so great that That's Life did a terriffic story and of course featured our fabulous pics from the day.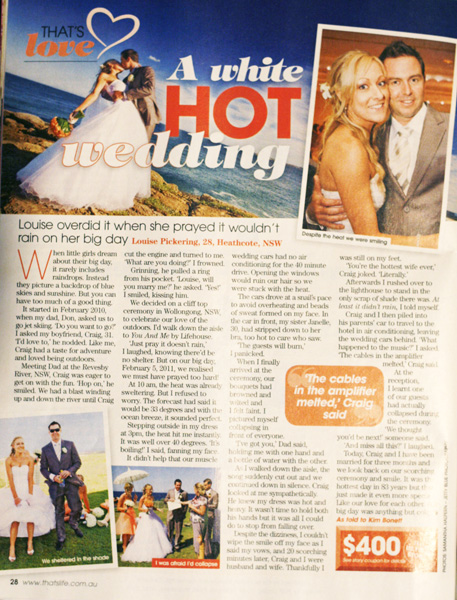 To be continued…
What's next??? Stay tuned for an announcement about our next fabulous special offer for Father's Day. Our next Expo is the Gymea Tradies where we'll be cross pollenating again with Living Beauty Make Up Artistry, so keep up to date with our expo special announcements here on the blog and our Facebook page. See you all next month!